Music Industry Jobs and Careers
Want to Break into the Music Industry?
We will give you the best advice on Music Industry Jobs and Careers from the top experts around.
Many want to be a superstar, sell millions of records, and make videos for millions of fans. Well there are no guarantees in the competitive music business. But in order to succeed, you have to be armed with information to avoid all the pitfalls and obstacles you are going to face. If you are not an artist, employment for music professionals is out there if you know where to look. We'll give you the basics on how to find music industry jobs.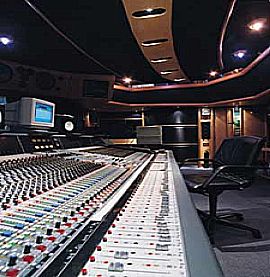 Basics for Success in the Music Industry as an Artist
The music industry is full of talented people that may never succeed. It can take years to get a record deal, even if you're amazing. Basically, you have to really know your stuff. Network with music contacts and don't rely on one avenue to market your talents. You don't want to end up like the rest of the music industry hopefuls that fall by the wayside.
The reality is too many demos and press kits end up in the trash. So, step away from the idea of a record deal being your only way to success. The music industry is moving out of the traditional brick and mortar and into the digital realm. Independent music artists are finding more ways to get their music out into everyone's iPod. Successful new artists look for ways to get their name out there by not just sending hundreds of demos to the record executives, but by getting their face and name on the web, getting their music played for the people who will listen, and building up a huge fan base.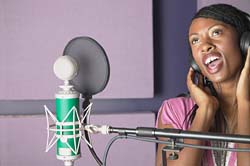 Forget fame and fortune for now, and get down to the basics of the music industry:
1. Literally, you have got to know your stuff:
If you're truly devoted to making it in the music industry, then be committed to your music first. Practice until you have mastered your craft. This is the most practical yet significant recommendation you'll ever get. If you want to make a lasting impact and develop a steady, long term music industry career you should take the time to develop your own distinctive sound. Whether it's your voice or your instrument, you should be at the top of your game. Only hard work, dedication, and passion will get you there. What also goes hand in hand with mastering your craft is developing a strong stage presencein front of an audience. The great artists are charismatic performers that can move and engage the fans.
Another note on stage performances is to leave your audience wanting more. As a new artist, keep your show time long enough to get the people engaged without giving too much. Always leave a little mystery and they will want to know more about you.
2. Get your face and name out there.
The best way to spread the word about your talent is to perform anywhere and everywhere you can to build your fan base. Broadcast your performance schedule on your website, in local papers and through word of mouth. When you get a little exposure and the buzz begins to build, those in the music industry will start to notice. That is the time to network!
You also have to get your music heard through other venues. Here are just a few suggestions:
•  College radio
•  Internet
•  On your website
•  MP3s, ringtones, podcasts
•  Web videos
•  Passing out sample CDs to the public
Take advantage of all the options out there as an independent music artist.
3. Establish a connection with your fan base.
Establish a connection to your fans not only on stage, but always. While performing, have someone go out into the audience and gather email addresses from those who want to hear more from you. This is how you build up your mailing list of potential fans. Make sure you email your mailing list within a week after gathering them. Send out at least an email to your list twice a month.
Find a way to connect to your website visitors. Tell stories, blog, put up pictures, schedules, freebies and anything else you can think of. Talk about what your music means or where you derive inspiration from.. Make sure you have a space to have fans leave email addresses.
The bottom line is whether or not you have talent and are marketable in the music industry. You have to put the time and effort into actually marketing your independent music to fans, music contacts and to anyone else who will listen. Take the time and put in the extra effort and success will come your way!
How to Break into the music business
MUSIC INDUSTRY A-Z





Check out more articles on Breaking Into The Music Industry As An Artist




There are tons of other jobs in the music industry besides being a musician. It is often found that these jobs are less commonly discussed. Obviously not everyone in the music industry is an artist or performer. Maybe you don't play but love music and a career in the industry is really what you desire. Or maybe you do play but would rather be a professional musician playing in the background. Let's discuss these other roles and what they involve.
Sure it's difficult to break into the music biz, but finding a job in any line of work can be challenging. Employment for music professionals is out there if you know where to look and are willing to learn about the business side of the entertainment industry.
Before you seek employment in the music industry, remember these things:
1. Network with other musicians to learn how they broke into the biz. Get as many contacts as you can because you never know which one will help you find music employment.
2. Take classes on the business and marketing side of the entertainment industry. The tips you learn will be invaluable when selling yourself and your music.
3. Open yourself up to all types of music employment. You may think your skills lie in composing but maybe producing, for example, is a hidden talent.
Jobs in the music industry articles coming soon





Click here for more information and articles on breaking into the music business as an artists.




Music Industry Jobs and Careers
Music Industry Jobs and Careers Music Industry Jobs and Careers Music Industry Jobs and Careers Music Industry Jobs and Careers Music Industry Jobs and Careers