Hip Hop Clothing Designers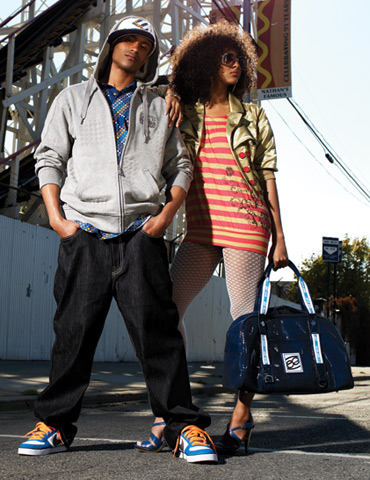 Hip hop fashion is everywhere. Hip Hop Clothing Designers has certainly made a mark in today's fashion. The men in their oversized football jerseys, baggy jeans, and omnipresent bling, and the women in their skintight minidresses, colorful tube and halter tops and low rise jeans, and of course, the bling. And just as fast as the music has spread and infected listeners of all colors and backgrounds, anyone can wear urban wear and not look the slightest bit odd. Thanks to artists such as Eminem, Fergie and Jennifer Lopez, the rap and hip hop culture have transcended all borders and belong to a bigger audience worldwide. Hip hop fashion all depends on your own style and personal preference and how you want the world to see you.
At the time Run DMC made it big with "It's Like That," hip hop became a growing force, not only through its music, but its entire lifestyle: and that includes what is worn by rap, urban, and hip hop musicians over the years. Run DMC mixed it up with tracksuits and slick leather coats, and other artists began to express themselves with fashion, just as much as with their music. By the time the video for the remix of "It's Like That" got regular airplay on MTV in 1997, where two groups of kids faced off in a break dance showdown, evidence of the diversity of hip hop fashion could be seen, as the clothes and accessories in the video belonged not only to hip hop but then had a more universal appeal. Here we present you with some of the top Hip Hop Clothing Designers around!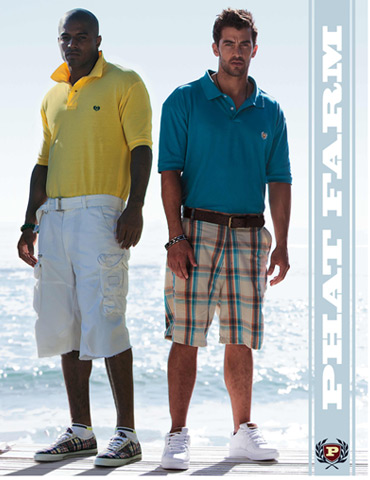 As hip hop music grew, developed and evolved, so did its looks and fashion styles, with popular music artists such as P.Diddy and 50 Cent developing their own clothing lines or helping design others. 50 Cent teamed up with Marc Ecko and the result is not quite the urban look of Ecko Unlimited, nor the sleeker Marc Ecko Collection, but a more wild and fun style, full of color and action, as seen on the shirts and hoodies of the 50 Cent signature G-Unit collection.
Other hip hop clothing designers are unique on their own, yet distinguishably hip hop. Akademiks look more, well, Ivy league than its other design peers, yet still rebellious enough to stand out. Take their very chic outer wear: jackets in muted and neutral tones, sometimes plaid, sometimes made of fleece, all very stunning, but not too uptight to earn deserved props. Phat Farm has shorts that look trendy/preppy, and shorts to skate with. Zoo York takes it further with swimwear – board shorts that still reflect your musical tastes. Sean John's reversible and tri-hoodies are worth checking out, as well as a 2-piece core velour hook-up that we promise is so not lame.
Hip hop – both music and fashion – really are ever-changing, and you'll have to reinvent a particular piece of clothing to get a more updated look. Keep up by watching the latest videos and checking out your favorite stars. Chances are, if someone tries out a new trend, you can buy similar styles the very next week.
---
Akademiks Clothing, started by two brothers Donwan and Emmett Harrell, changed the look of hip hop clothing forever. Akademiks (an intentional misspelling of "academics") is an American brand of Hip Hop Clothing Designers popular with devotees of hip hop music. Akademiks was made famous in 2001 by Brooklyn rapper Fabolous whose lyrical content advertised the brand. The label achieved a degree of notoriety in 2005 when its advertisements on New York City's MTA buses included the tagline "Read Books, Get Brain",. The ads were banned when MTA officials realized that there was a double meaning in this phrase, which was later pointed out that "get brain" was in fact a slang term for "receive oral sex" along the lines of "get head". Akademiks released another small group of clean ads for the MTA in early September, 2006 The PRPS jeans, created by Akademiks , are manufactured in Japan, unlike other jeans which are mostly manufactured in China. The Japanese manufacturer of the jeans uses looms from the 1960s similar to the type that were used to produce denim for Levi's. Buy the best in urban clothing from the top Hip Hop Clothing Designers right here at Ultimate Hip Hop Gear.
Check out the latest in Akademiks Clothing



---

Founded by Mr Jacky Taranto and based in Melbourne Australia, Coogi has been producing an inspirational, unsurpassed standard of quality designer knitwear and clothing for over 30 years, Over the past 15 years, Coogi has built an enormously successful international market exporting garments to over 25 countries worldwide, Its products are receiving phenomenal international acclaim and recognition for their original designs of timeless beauty and individuality. Each garment reflects a passion for artistic excellence and knitting accuracy. The company is a modern master of the most ancient form of crafted clothing. Each Coogi garment is a highly distinctive expression of a craft steeped in rich traditions yet reflective of 21st century lifestyle and sophisticated technology. Coogi garments are quickly becoming collector's items as each piece is individually crafted to represent an original work of structured art, Coogi's products have evolved over the past 30 years offering an extensive product range including men's, women's and children's knitwear and clothing as well as homewares. Buy the best in urban clothing from the top Hip Hop Clothing Designers right here at Ultimate Hip Hop Gear

Chek Out the Hot New Coogi Clothing Designs




---
Since Ecko Clothing hit the streets in 1993, Ecko Clothing Unlimited has exploded into a leader in Hip Hop Clothing Design, skate/extreme sport and designer fashion markets. Marc Ecko, the creative force behind the Ecko Clothing Unlimited brand, has pioneered the fusion of distinct elements of youth culture into a singular expression of global lifestyle. The brand has expanded to include 12 lines comprised of Ecko Unlimited (men), Ecko Red (women), Eckō Function (outerwear and alternative sports), Marc Ecko Leather (leather goods), Marc Ecko watches, Marc Ecko Scopes (eyewear), Eckō Storage (bags and accessories), Marc Ecko Footwear (men's, women's, and children's footwear), Zoo York, Marc Ecko Cut and Sew, the new Eckō Unlimited Boys and Ecko Red Girls lines. The company partnered with the G-Unit Clothing Company from 2003 to 2008, helping the brand be marketed and merchandised. The joint deal folded as of February 2008. Buy the best in urban clothing from the top Hip Hop Clothing Designers right here at Ultimate Hip Hop Gear.
Cool New Ecko Clothing Designs


---

In Spring 2005, Marc Ecko Enterprises enters the highly lucrative mid-tier apparel market with the debut of its Avirex clothing sportswear and textile outerwear. The young men's and juniors' collection is the result of an exclusive licensing agreement with Avirex Ltd., a leader in the leather outerwear industry for nearly three decades. Featured in the new line are relevant fashion denim, tees, knits, and outerwear targeted toward a diverse crossover youth market that seeks quality, authentic American-inspired fashion. The collection will be made available through various national department and chain stores as well as specialty retailers. MEE has also recently signed renowned entertainer Method Man to a one-year endorsement contract for its Avirex Sportswear Collection. As part of the agreement, Method Man will star in the line's ad campaigns and will make various public appearances on behalf of the brand. Founded in 1975 by airshow fighter pilot and aviation-history aficionado, Jeff Clyman, and his wife and partner, Jacky Clyman, Avirex is best known for its classic, authentic, American clothing. Moreover, Avirex jackets, long at the forefront of the outerwear market, have been featured in movies such as Top Gun, Star Wars, and Terminator. Buy the best in urban clothing from the top Hip Hop Clothing Designers right here at Ultimate Hip Hop Gear.
---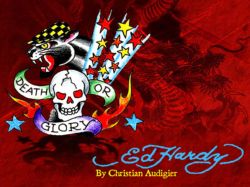 Born in Southern California in 1945, Don Ed Hardy revived a childhood resolve to become a tattoo artist and underwent a tattoo apprenticeship while simultaneously receiving a B.F.A. degree in printmaking at the San Francisco Art Institute in 1967. Tattooing professionally since then, he developed the fine art potential of the medium with emphasis on its Asian heritage. In 1973 he lived in Japan, studying with a traditional tattoo master he was introduced to by his primary mentor in the medium, Sailor
Jerry Collins of Honolulu. He resumed these studies in Japan throughout the 1980s. Since 1974 he pioneered the emphasis on unique tattoo commissions at his San Francisco studio. In 1982 he and his wife, Francesca Passalacqua, formed Hardy Marks Publications and have written, edited and published over twenty-five books on alternative art. They moved their primary household to Honolulu in 1986, where Hardy resumed painting, drawing, and printmaking. He maintains the studio Tattoo City in San Francisco, with younger artists continuing to evolve and carry on his unique work format. Hardy's primary focus is on creating and exhibiting works in more traditional mediums, including porcelain painting. He began developing this body of work in 2006 in a traditional Japanese setting. In addition to showing his own works, Hardy curates a number of exhibitions for both galleries and nonprofit spaces and frequently lectures at museums and universities. His work has appeared in numerous periodicals, books, and films internationally. In 2004 "Ed Hardy", a major fashion line featuring his artwork, was launched internationally. Hardy and his wife now divide their time between Honolulu and the San Francisco Bay area. Buy the best in urban clothing from the top Hip Hop Clothing Designers right here at Ultimate Hip Hop Gear.
The Best Ed Ed Hardy Clothing Designes

---
Check Out the Latest from Enyce Clothing


In 1996 Enyce Clothing put their first label on their first piece of clothing now in 2005 it's difficult not to mention them when talking about Hip Hop Clothing Designers. Drawing its name from New York City's initials (pronounced phonetically: En-ee-chay), ENYCE Clothing has become an urban clothing leader through its unique designs, practical accents and attention to detail.
ENYCE's focus on style and functionality is reflected in its clothing that departs from the mainstream. Bringing flavor from all around the world and adding a touch of NYC to it, Enyce Clothing brings you a distinct sense of style. It is one of the most esteemed hip hop and urban clothing lines around.
Enyce is owned by one of the most popular fashion company in America, the Liz Claiborne Incorporated. Liz Claiborne Incorporated is a fashion company founded in 1976 in New York City that designs and markets a wide range of women's and men's apparel, accessories and fragrance products.
Enyce wasn't owned by the Liz Claiborne Incorporated initially. The first Enyce brand was founded by three designers named Evan Davis, Lando Felix and Tony Shellman, and the Enyce label was first established in New York City in March of 1996. The three co-founders had originally met while working for Seattle-based clothing brand International News.
On 2004, the Liz Claiborne Incorporated acquired the Enyce company for $114 million from Sports Brands International.
There are many categories of the brand Enyce, each having its own target market such as the Enyce , lady Enyce, eno, lady eno, eno kids, eno seniors, and eno mako. Buy the best in urban clothing from the top Hip Hop Clothing Designers right here at Ultimate Hip Hop Gear.


---

Lot 29 clothing is one of the newer Hip Hop Clothing Designers. Southpole used its distribution power to launch Lot 29 clothing. Lot29 made itself popular by mixing hip hop clothing with Looney Tunes characters. The label offers unique airbrushed and embellished tops and bottoms featuring Taz, Daffy Duck, Yosemite Sam, Bugs Bunny, Wyle E. Coyote and Marvin the Martian. These officially licensed tees and jeans are cut for a looser, longer urban fit. Buy the best in urban clothing from the top Hip Hop Clothing Designers right here at Ultimate Hip Hop Gear. Check Out the Hot Ed Hardy Clothing Collection


---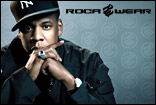 Launched off of the meteoric success of co-founder, Shawn "Jay-Z" Carter, The ROC represents a borderless, global lifestyle. With Roc-A-Fella Records serving as the initial launch pad, The ROC realized its prowess in creating culture far beyond the realm of music. Hence, the birth of the apparel company, Rocawear. Like Roc-A Fella Records, Rocawear quickly staked its claim in hip-hop history becoming the destination brand for street savvy consumers. Rocawear maintains a focus of providing clever innovation in fabrication, application and design to its customer. It has been the brand's attention to detail that has pushed this Hip Hop Clothing Designer appeal beyond its core urban customer. Ten years have passed since the genesis of The ROC...and a dynasty now reigns. Buy the best in urban clothing from the top Hip Hop Clothing Designers right here at Ultimate Hip Hop Gear.
Cool New Rocawear Clothing Designs

Rocawear behind the scenes photoshoot with Beyonce and Jay-Z
Chris Brown: Rocawear I Will Not Lose Campaign 07





---
Hip Hop Clothing Fashion - Spice Up Your Wardrobe and Look Your Best
By Jon Khan
Once an underground street culture, hip hop clothing has now acquired a prominent place in the mainstream fashion world. If you want to make a style statement, then you have to include hip hop clothing in your wardrobe. There is an assortment of clothes to choose from to make you stand out. This clothing includes a collection of satin dresses and blouses with cap sleeves, halter dresses, tube dresses and blouses with optical prints. Hoodies and baggy jeans are in style for the men and come in a broad assortment of colors and styles. The appeal of hip hop clothing is attributed to the high quality and vibrant colors that can make any fashion savvy man or woman look good.
Today, popular and successful designers are known to charge huge amounts for the hip-hop clothing that they produce. Due to its ever-increasing demand, a number of retailers nowadays are dedicated to the sale of hip-hop clothing and accessories. While hip hop clothes can be quite expensive if bought from designer stores, the quality and variety that you can choose from are well worth the price. A good alternative option to find quality designer clothes is to check out the collections by reputable brands which are available online. The best part is you can find several stores almost simultaneously if you shop online. It is also possible to locate hard-to-find hip-hop sneakers and other apparel on websites exclusively dedicated to them.
Its easy to look good with the funky, stylish hip hop clothes that bring out the fashionable you. . The best part is hip hop clothing is evolving every year. Those who dare will certainly come out on top with a hot fashion statement of their own. If you're a fan of designer clothes, then don't forget to check out the collections launched by the hip hop designers each season.
Accessories that go with these clothes include large ornamental belt buckles, fitted caps, and skull and skeleton decorations. T-shirts are now of shorter length so as to expose decorated belts, belt-buckles and biker chains. Therefore a lot of hip-hoppers are choosing to forgo the "baggy" style of dressing, although that still remains relevant. They choose to experiment with colorful, fitted, and hipster-inspired clothing, as seen by hipster-rappers like Will.I. Am, Kanye West, Common and Andre 3000. Others like Pharrell and Lupe Fiasco opt for the tighter-fitting skater-influenced styles. Therefore, though it is still evolving, it is evident that hip-hop fashion will continue to be a major force in designer clothing.
Looking for Hip Hop Clothes? Buy from the most popular online shop where you can get designer clothes for men, women, teens & kids. For the best resource for hip hop clothes just visit https://www.ultimate-hiphop-gear.com/
Article Source: https://EzineArticles.com/?expert=Jon_Khan
https://EzineArticles.com/?Hip-Hop-Clothing-Fashion---Spice-Up-Your-Wardrobe-and-Look-Your-Best&id=1494024
---
Hip Hop Clothing Designers for Men
Hip Hop Clothing Designers for Women




Hip Hop Clothing Designers Hip Hop Clothing Designers Hip Hop Clothing Designers Hip Hop Clothing Designers Hip Hop Clothing Designers Hip Hop Clothing Designers Hip Hop Clothing Designers Hip Hop Clothing Designers Hip Hop Clothing Designers