Luxirie By LRG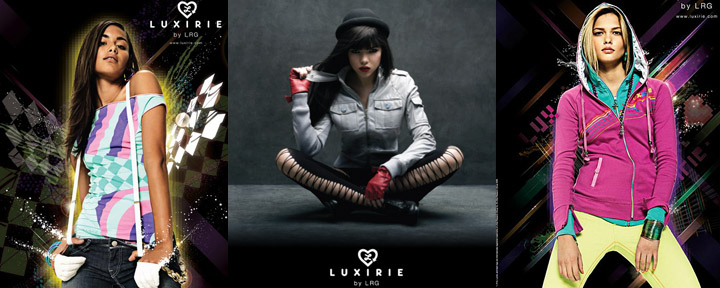 Urban Stores Featured on this Page: Jimmy Jazz, DR JAYS, Eastbay, Karmaloop, Foot Action
---
LUXIRIE …a Creative lifestyle clothing company celebrates diversity, the creative spirit and positivity; and hope to inspire a new wave of artistic freedom of expression within the worlds of fashion, art, and music. The brand focuses on the girls that follows their heart and try to pay their rent with their passions. Think of this brand as a support group to the independent and underground female. They are trying to put the spotlight where they think it belong, because it's much more than clothing and concepts, it's a way of life.
Lifted Research Group presents more than clothing and concepts. LRG is a lifestyle. It's an innovative essence for the above average person. The quality of LRGs creativity has surpassed nearly every other brand, with revolutionary design and color. The Lifted Research Group also prides itself in supporting independent and underground culture.
Robert Wright, Jonas Bevacqua, Charlie Moothart and Ronnie Ghenender collaborated together through a common love of music and fashion. In 1999, the founders combined their eclectic tastes into Lifted Research Group, better known as LRG. The independent clothing company has branded the underground hip-hop generation, being worn by hip-hop celebrities Kanye West and Chris Brown. According to the founders, the company's success has been the result of listening to their passions instead of their pockets.