IPOD GEAR
---
Choose Your Own iPod and iPhone Case
iPod Software
You buy a music player and put songs on it, but then how do you get any music on your computer. Here are a few companies that have created several systems for transferring music. They move all of your rare songs from the iPod and gives access from your PC!
Check Out The Latest iPod Software




---
Check Out These Cool Gadgets And Accessories For You iPod

This coat is perfect for people who travel and want a coat to feel more formal and and protect them from the elements. It has a minimal sport coat cut, small lapel and full button-up capability for an ultra-modern look. BlackCoat Sport is made from lightweight, supple nylon with Epic® waterproofing technology. It folds up into practically nothing and can be easily stuffed in a regular size laptop case, in addition to whatever you are carrying. The lining is a nano-mesh with sheen that simply catches people's eye. Very smart - Koyono Industrial elegance at its best.
Jay Yoo, Koyono Founder
BlackCoat Sport is part of the kit you need to replace your business casual with Business Active, adding real sporting cred to the staid sport coat form. This thoroughly modern and durable sport coat can be folded and stowed away in your travel case, ready for use when you need it. Koyono has partnered with Eleksen, makers of Elektex® smart fabric interfaces, to integrate five-button iPod controls into our ipod coats. These controls allow for full functionality of your iPod without having to remove it from the coat. Fluid and uninterrupted access to your tunes without missing a beat is finally here.
Like all BlackCoat designs, Sport has a subtle, yet distinct appearance and is made from the latest encapsulated fiber waterproofing and stain-resistant technology from Nextec®. With BlackCoat Sport, you have just the right number of pockets to manage your gadgets and other mobile necessities with comfort, discretion, and style. BlackCoat Sport - the ultimate travel coat when you never know when it's going to rain, when you need a sport coat or just an extra pocket. Perfect for that blissful morning stroll through Hyde Park when your getting clear about a big meeting. Pre-visualize success and command control of your mood through the coat's built-in iPod controls. Business as Sport.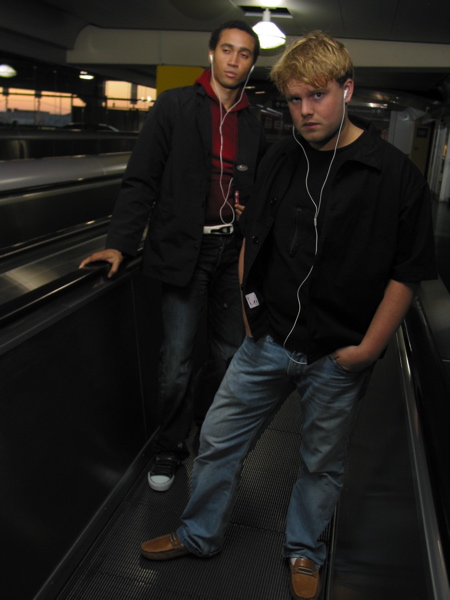 ---
Blue Lounge The Sanctuary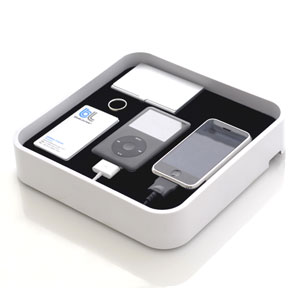 The Sanctuary is a beautiful, simple solution to a real everyday problem. A place to put the multitude of personal items and electronic devices we all carry around so they are easily locatable and, always fully charged. The simple and compact design conceals a universal charger compatible with over 1500 electronic devices from most major brands and a USB port allowing hundreds more electronic devices to be charged using just The Sanctuary. Users can from now on charge their cell phone, PDA, Blackberry, iPod, MP3 player, and bluetooth headset simultaneously in one location. A Charging Station designed for daily use at the bedside table, kitchen counter, office desk, etc, The Sanctuary performs its functions with ease and elegance. The Sanctuary never truly reveals its multi-purpose electronic capabilities so the user develops an emotional attachment, as it becomes personalized and integral to one's daily routine. Please click on the Kata (Use) Section for information on how to use The Sanctuary.
---
Blue Lounge SpaceStation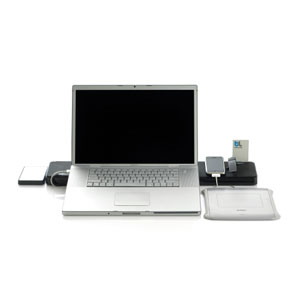 An extended desk organizer for laptop users with internal coiling pins conceals all the cords that usually sprawl over the desk. Hovering just 5mm above the desk, cords are free to enter or exit the hub at any point – on the side to connect a scanner, the front for an iPod, the back for a laptop or camera. An internal 4-port USB 2.0 hub will keep all peripherals connected. One USB plug exits the station right where needed to connect a laptop. Just tip the front of the SpaceStation up to access the hub and cords. The rubber pad is the place to rest a laptop, raising the back to create an ergonomic keyboard angle and allowing airflow underneath. It is also a surface for placing a phone, and daily accessories for easy access. A rear accessory railacts as a great business card slot and sports a handy page holder to keep all the paper you want standing upright next to your laptop for easy reference. The extended design will bring the cords to their accessories on the left or right side of the laptop. The computer may be placed centered or offset leaving space for a full letter sized page and other accessories. SpaceStation is shipped with a US AC adapter, which makes it possible to plug multiple devices that draw their power from USB ports.



---
An iPod and iPhone may look quite generic but you can make yours different by getting an iPod and iPhone case that best reflects your personality. iPod and iPhone cases are sold in various colors and styles and those who want to protect their investment will find a case to match their taste. Here are the basic kinds of iPod and iPhone cases:
1. The flip lid lets you protect your iPod and iPhone screen but it can also easily access the interface just by flipping the lid or the cover.
2. The skin case lets you keep the iPod and iPhone from appearing slim and it also protects it from scratches. This kind of case comes in various colors.
3. The hard case lets you protect your iPod and iPhone just in case you drop it. This is the kind that offers the maximum protection. 1. If you workout with your Pod, the armband lets your iPod and iPhone remain steadily on your arm whenever you are out jogging. These armbands keep the iPod and iPhone from bouncing around. 2. Protect those Pods by getting a case that has an attached clip which can also be flipped to keep on your desk.
3. If you are a leather-loving person, then there are leather cases out there that are classy and prevent your iPod and iPhone from scratches whenever you remove and insert it in the case. All the buttons, controls and ports you need are easily accessible all the time.
4. There is the iPod and iPhone case that comes in a belt design. It has a simple push button release that disengages your iPod and iPhone from your hips. I bet Batman has a belt design for his Pods.
5. If you are the classy type who always tucks your shirt in, you can get the detachable belt click that makes it easier for you to reach for our iPod and iPhone. It completely covers your gadget so you will be removing and inserting the phone if you constantly get calls. It has a screen protector from all that sliding you'll have to do.
iPod Gear iPod Gear iPod Gear iPod Gear iPod Gear iPod Gear iPod Gear iPod Gear iPod Gear iPod Gear iPod Gear